Simply CRM provides you with the Campaigns module that allows you to plan and monitor your marketing campaigns. This lets you track the most important campaign information, such as the budget, actual cost, expected revenue, ROI, etc.
Campaigns also allow you to track your marketing activities, such as emails, chats and phone calls. All of this data recorded in the Campaigns module allows you to analyze your advertising campaigns and optimize your marketing efforts.
In Simply, you can create campaigns manually or import them from an external .vcf or .csv file.
Create campaigns manually
If you want to create a campaign manually, you will need to open the Campaigns module under the Marketing tab on the main menu.
In the list view of the module, press the Add Campaign to open the new window and start entering the campaign information.

Enter the campaign details and press Save to create the new campaign.
Quick create campaigns
If you don't have the time to enter all the campaign details, you can quickly create a campaign by using the plus icon in the top right corner of your Simply instance.

This option will allow you to create a campaign with only the most essential information. Of course, you will later be able to edit the campaign and add more details to it.
Import campaigns
Similar to other modules, campaign records can be imported from an external file. For more information on importing campaigns, consult our article on how to import records.
How to use campaigns
When you create or import a campaign, you should get a detailed view similar to the one shown in the screenshot below.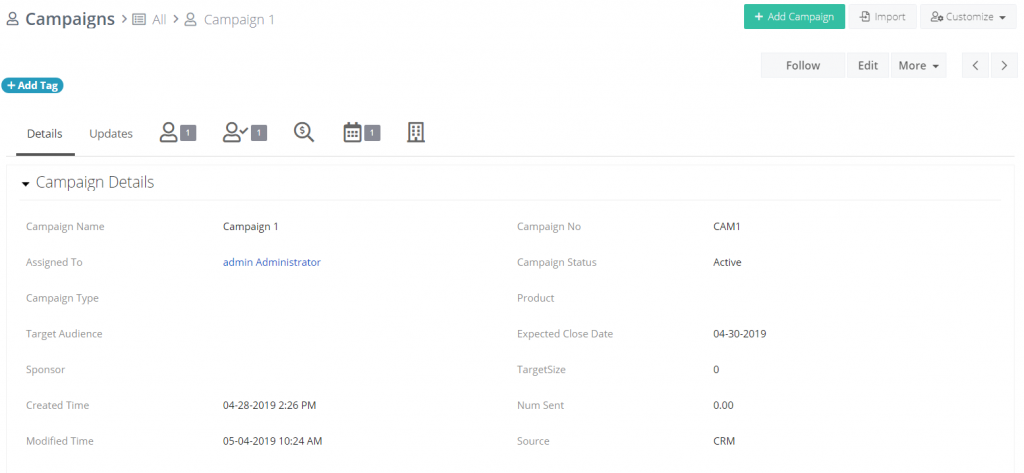 Aside from the details and updates, you can browse the contacts, leads, deals, activities and organizations linked with the campaign.
Associate campaigns with other records
To create a more comprehensive view of the most important data, you can associate your campaigns with other records. The following table outlines what records can be associated with campaigns in Simply.
| | |
| --- | --- |
| Module | Description |
| Contacts | Allows you to associate contacts with a campaign record |
| Leads | Allows you to associate leads with a campaign record |
| Deals | Allows you to associate deals with a campaign record |
| Activities | Allows you to associate activities with a campaign record |
| Organizations | Allows you to associate an organization with a campaign record |
Contacts, leads, deals and organizations provide you with the target audience of your campaign. You can use their information to quickly execute a marketing campaign and follow its results.
Activities allow you to plan tasks and events that will help you operate and organize your campaign. This can include calls, emails, appointments, letters, etc.
If you want to add a record to your campaign, simply go to the appropriate tab and press the Add button. Alternatively, you can choose to add records from your existing database by using the Select button.

When you associate other records with campaigns, you will be able to:
Plan marketing activities
Outline the campaign objectives
Define the campaign success metrics
Test campaigns and measure their effectiveness
Track customer inquiries
Monitor the sales process
Send bulk emails to contacts, leads and organizations